Community Partners Spotlight, September 2020
September 8, 2020
We have seen an outpouring of support from partners in our community over the past few months. We want to "shout-out" three groups who have gone the extra mile with their time, talent and treasure.  
Vanderbilt Psychiatric Hospital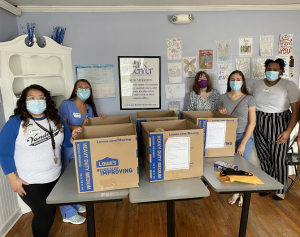 Our Emerging Adults members' day became a bit brighter when Vanderbilt nurses stopped by with boxes full of their favorite foods. Their substantial donation provides relief (and joy) to members who are currently not employed or whose work hours have been reduced as a result of COVID-19. Thank you nurses for your kindness and generosity towards our members!
Small World Yoga 

Virtual Yoga is the "new normal." Small World Yoga has taught yoga classes for members in our day program and outpatient programs for years. These programs partially reopened last week and while we are currently not able to have the instructors come in and teach yoga classes, our members are practicing chair yoga through videos Small World Yoga made specifically for them. Thank you to Small World Yoga and their wonderful instructors for providing these resources to help our members stay physically active. 
This picture of members practicing yoga was taken before COVID-19.
---
United Healthcare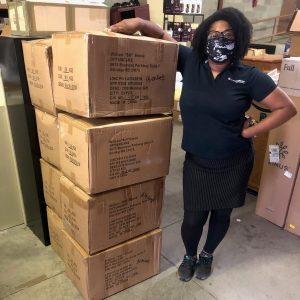 We'd like to thank United Healthcare for donating 200 blankets to our Homeless Outreach program! Blankets are an essential survival item for unhoused people in our community. Thanks to United Healthcare's thoughtful donation, our homeless outreach workers have brand new blankets to give directly to people who find themselves living on the streets this winter.
COVID-19 has changed life as we know it, but the support of our community partners has lightened the load our members face through their acts of kindness. Learn how you can get involved and give hope to our members.  
View previous post: Park Center's Partial Reopening Set for August 31
View next post: What COVID-19 Means for Young Adult Mental Health